By Amy Myrdal Miller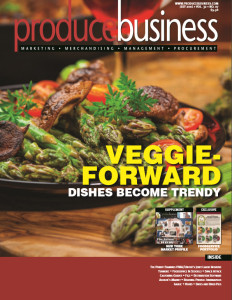 NOTE: This article originally appeared in the July 2016 issue of Produce Business magazine.
Fried chicken is one of the biggest trends in foodservice this year. Fried chicken? Really? Yes, it's true. As beef consumption drops and pork consumption stays flat, our chicken intake just keeps increasing. Part of this is due to nutrition and health concerns, and part of it is due to sustainability messages. People believe chicken is better for them and better for the planet compared to other sources of animal protein.
So how did fried chicken become such a hot trend in restaurants this year? According to Michael Whiteman of Baum + Whiteman, a NYC-based restaurant consultancy, chefs are "obsessing over fried chicken" with a lot of attention going focused on fried chicken sandwiches.
The National Restaurant Association's "What's Hot 2016 Culinary Forecast" shows fried chicken ranks #1 as a perennial favorite of chefs (diners, too!), and chef-driven fast casual concepts ranks #2 overall for 2016 trends.
Which brings us to Chef Danny Meyers' Shake Shack and their fried chicken sandwich offerings: The Shake Shack released its Chick'nShack™ sandwich nationwide in January 2016 after their original ChickenShack™ sandwich was announced as an LTO (limited time offer) in July 2015. The fast-casual Shake Shack concept was founded by industry icon Danny Meyer, and anything Danny Meyer does is closely watched and quickly imitated by others in the restaurant industry.
Have you tried Nashville Hot Chicken yet? It's crack. Well okay, it's not crack. It's fried chicken dipped in a sweet, spicy sauce. KFC is now selling Nashville Hot Chicken. So is Yard House, part of the Darden restaurant empire.
Hattie B's is an original Nashville Hot Chicken restaurant with a cult-like following. An online search for Hattie B's spicy sauce recipe shows the inclusion of lard, brown sugar, cayenne pepper, and other spices. It's not exactly health food, right? That's where the opportunity for produce comes in.
Let's say you're ordering a fried chicken sandwich or a bucket of Nashville Hot Chicken. In the consumer mind, ordering a few vegetable side dishes "balances" out the meal. "I'll have the two-piece Nashville Hot Chicken meal with a side of coleslaw and a side of sweet potatoes. And a Diet Coke!"
So how can produce professionals capitalize on our love affair with fried chicken? Here are some ideas to get you started, whether you're in retail foodservice or produce sales.
Fried Chicken Sandwiches
Sandwiches need toppings and coleslaws need updating. What can be shredded and added to the coleslaw to add more color and flavor? If the fried chicken is mild, add some heat with chiles or cayenne pepper in the dressing. If the fried chicken is spicy, keep the coleslaw on the milder, sweeter side with shredded apple. While kale is falling out of favor, think about other cruciferous vegetables that add a health halo, like shaved Brussels sprouts or kalettes. And consider the dressing. What can you add to the coleslaw dressing in terms of spices, herbs, and aromatics to add a new twist to a familiar favorite?
Fried Chicken Dinners
Here is where the options are endless for produce. From simple sides like watermelon and corn-on-the cob to more chef-driven options like sweet potato salad, jalapeno mac & cheese, collard greens with house-made vinegar, a watermelon and feta salad, or a roasted poblano, corn, and black bean salad, there an so many ways to entice diners to add more produce to their fried chicken dinners.
Beverages
I love seeing restaurants that use produce in summer beverages and cocktails. Strawberry lemonade is adored across this country while diners in Northern California, where I live, swoon over options like lemon verbena iced tea with frozen blackberries. Frozen berries and grapes can be used as ice cubes in a variety of alcoholic and non-alcoholic drinks. From a sensory perspective, the acid from fresh produce can offset the richness of fried chicken. And the addition of a few cucumber and lemon slices to ice water can make the water feel more special…and the chicken feel more healthful.
A Final Note about Fried Chicken
A few years ago at a Produce for Better Health Foundation meeting, Harry Balzer, Chief Industry Analyst and Vice President of the NPD Group, was talking about U.S. food intake trends. He asked the audience, "How many of you have eaten fried chicken the past month?" Not a single hand was raised.
Harry laughed as he said most audience members at every conference he speaks at sit on their hands when asked that question. He went on to explain that NPD data show fried chicken consumption has been steadily increasing in this country since the 1980s. Even though we don't admit to loving fried chicken, most of us do. Fried chicken is not a trend that will soon disappear. Let's embrace the trend and figure out how produce can capitalize on it!
Amy Myrdal Miller, MS, RDN, FAND is a farmer's daughter from North Dakota, award-winning dietitian, culinary nutrition expert, and founder and president of Farmer's Daughter Consulting, Inc.  You can learn more about her business at www.farmersdaughterconsulting.com and you can follow her insights on food and flavor issues on Twitter @AmyMyrdalMiller.