By Amy Myrdal Miller and Suvir Saran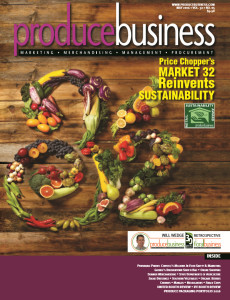 NOTE: This article originally appeared in the May 2016 issue of Produce Business magazine.
Every February Suvir and I teach a two-hour workshop called "Spices, Herbs and Aromatics: Exploring Health and Culinary Benefits" for an eager audience of healthcare professionals. While these physicians and dietitians always appreciate updates on research related to spices, herbs, aromatics and health, they are much more eager to hear the ways we use these ingredients to make fruits and vegetables more delicious and craveable.
One of the most common questions we get during the workshop is, "Which is better? Fresh or dried herbs." Almost without exception, we say, "Fresh is best!" There are no nutrition or health reasons for this. The real power of fresh herbs comes from their flavor. Their dried counterparts don't deliver the same burst of aromatic appeal or sensory satisfaction.
In this column we offer tips for boosting produce purchases in both the produce and prepared foods departments by highlighting how well herbs pair with certain produce items.
Easy Appetizers featuring Fresh Basil
One of the easiest summer appetizers is using toothpicks to skewer bocconcini (those small balls of fresh mozzarella cheese) with grape or cherry tomatoes and fresh basil leaves. Arrange on a platter, drizzle with fresh, high quality extra virgin olive oil, and some freshly cracked pepper. This is an easy in-store demo and sampling idea, perfect for holiday weekend promotions for shoppers who may be doing some entertaining.
Greek Salads featuring Fresh Oregano
The Greeks love using fresh as well as dried oregano in many dishes. Minced fresh oregano adds a familiar yet intriguing flavor note to a basic lemon juice plus olive oil salad dressing for a Greek salad with lettuce, cucumbers, crumbled feta cheese, Kalamata olives, and diced red tomatoes. There's no need to use salt in the salad dressing; the feta and olives will suffice.
Upscale Fruit Salads featuring Fresh Mint and Cilantro
Suvir created a simple yet complex fruit salad for his American Masala cookbook that features grapefruit, pineapple, and mango tossed with vinaigrette that includes fresh mint, fresh cilantro, fresh lime juice, minced jalapeno, and some ground cayenne pepper.  We often demonstrate and sample this recipe for our winter workshop, and attendees typically comment about how they can't wait to take the next bite. The sweet from the fruit beautifully balances with the heat from the jalapenos and cayenne, making the mouth water in anxious anticipation of the next bite.
Move More Melons
Melons and fresh herbs are made for each other. Many restaurants offer seasonal beverages that feature watermelon and mint, and many upscale Mexican concepts offer fresh takes on pico de gallo with combinations like diced watermelon and cilantro. Last summer Pinterest pages were all abuzz in July and August over watermelon basil salads. We know of a seed company that offers "Crop Pops" at their vegetable seed events. These refreshing homemade popsicles are made with pureed cantaloupe, honeydew, and watermelon sweetened with a bit of sugar, balanced with a little fresh lime juice, and finished with fresh mint.
Fresh Corn Salads featuring Cilantro
Sweet corn season is about to start, and while Americans love to boil their ears and then slather on the butter, there are other ways to enjoy this family favorite. Freshly picked sweet corn is so tender if can be cut off the cob—without cooking it—and mixed with minced cilantro and a squeeze of lime and a dash of salt for a quick, refreshing salad. This no cooking required option is awesome for hot summer nights when a pot of boiling water on the stove is the last thing a home cook wants to face. What about the backyard barbecue version where the corn is grilled with the husk on? Pair with cilantro butter for a definite crowd pleaser!
Herbs as the Star of Simple Salads
One of the best salads I've ever eaten anywhere in my life was at a Mediterranean restaurant in Los Angeles in the late 1990s. The French chef combined cilantro and mint leaves with a lemon vinaigrette. This simple salad was so light, refreshing, and aromatic…I'm still swooning at the memory. And I'm still waiting for another restaurant to realize that herbs don't have to be the co-star; they can be the headliner for an excellent salad.
We hope these tips inspire your produce and prepared foods teams. Cheers to finding more ways to highlight the flavor boosting power of herbs!
Amy Myrdal Miller, MS, RDN, FAND (@AmyMyrdalMiller, www.farmersdaughterconsulting.com) is a farmer's daughter from North Dakota, award-winning dietitian, culinary nutrition expert, and founder and president of Farmer's Daughter Consulting.  Suvir Saran (@SuvirSaran, www.suvir.com) is an award-winning chef, restaurateur, and cookbook author. Born in Delhi, India, today Suvir lives on a farm in upstate New York.