NOTE TO READERS: A shorter version of this article originally appeared in the January 2016 issue of Produce Business magazine.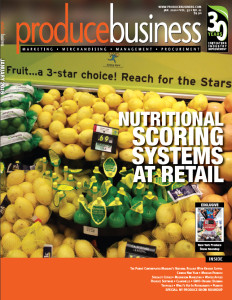 Anyone who sells produce directly into large foodservice operations appreciates how challenging it is to get a chef or menu developer to agree to add your item to his or her menu. Even if the culinary team loves the concept, they have to get buy in from supply chain, marketing, and operations as well as their guests. The Mushroom Council appreciated this complexity and took a very different approach to moving more mushrooms onto menus.
The Mushroom Council is the founding corporate member of The Culinary Institute of America Healthy Menus R&D Collaborative (HMC), an initiative started in 2010 to address sodium in foodservice. When the original group of volume foodservice leaders were asked (a) if they were willing to collaborate with major competitors—McDonalds, Subway, and Dunkin' Donuts were all at the table—and (b) did they want to focus on sodium reduction, the overwhelming response was yes. But these leaders said they also wanted to focus on increasing use of produce on menus. Why? Chefs love produce. Working on sodium reduction was necessary, especially with the potential for regulatory action at that time. Working on increasing use of produce was inspiring, something these leaders wanted to do.
In 2011 members of the HMC were struggling with increasing food costs. Commodity prices were soaring and operators were seeking ways to reduce food costs. They had made it through the recession and sales were starting to improve, but food costs for ingredients like beef and poultry were killing bottom lines across the industry.
This presented an opportunity for the Mushroom Council as well as the operator members. Could mushrooms be used as a partial replacement for beef? Everyone at the table agreed this strategy might work, but the most pressing issue was how would the consumer react?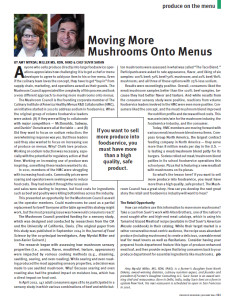 The Mushroom Council provided funding for a sensory study, which was designed and conducted by researchers from the CIA and the University of California, Davis. (The original paper from this study was published in September 2014 in the Journal of Food Science by the co-principal investigators, Amy Myrdal Miller and Jean-Xavier Guinard.)
The research began with assessing how mushroom sensory properties (i.e., aroma, flavor, mouthfeel, texture, appearance) were impacted by various cooking methods (e.g., steaming, sautéing, searing, and oven roasting). While searing and oven roasting produced the most appealing sensory properties, a decision was made to use sautéed mushroom. Why? Because searing and oven roasting also had the greatest impact on moisture lost, which has a direct impact on food cost.
In April 2012, 147 adult consumers ages 18-65 participated in a sensory study in which various combinations of beef and white button mushrooms were assessed in what was called "The Taco Blend." Participants were asked to rate appearance, flavor, and liking of six samples: 100% beef, 50% beef-50% mushroom, and 20% beef-80% mushroom and all three of these options with 25% less sodium.
Results were exceedingly positive. Overall, consumers liked the meat-mushroom samples better than the 100% beef samples because they had better flavor and texture. And while results from the consumer sensory study were positive, reactions from volume foodservice leaders involved in the HMC were even more positive. Consumers liked the concept, and the meat-mushroom blend improved the nutrition profile and decreased food costs. This was a win-win-win for the mushroom industry, the foodservice industry, and the consumer.
Today HMC members are moving forward with various meat-mushroom blend menu items. Compass Group North America, the largest contract feeding company in North America—they serve more than 8 million meals per day in the U.S.—is testing a meat-mushroom blend patty for their burgers. Sodexo rolled out meat-mushroom blend patties in their school foodservice operations this school year. Pizza Hut is featuring a new meatball with mushrooms on their pizzas. And the list goes on.
So what's the lesson here? If you want to sell more produce into foodservice, you've got to have more than a high quality, safe product. The Mushroom Council has a great story. How can you develop the next great story the retail and foodservice industry will want to hear?
The Retail Opportunity
How can retailers use this information to move more mushrooms? Take a cue from Suvir's work with Allen Brothers, one of the nation's most sought after and high-end meat catalogs, which is using his Tamarind Glazed Meatloaf recipe (available in his American Masala cookbook) in their catalog. While their target market is a rather conservative meat-centric audience, the recipe uses abundant produce, including mushrooms, to create a delicious, craveable meat loaf for meat lovers as well as flexitarians. Consider having your prepared foods department feature this type of produce-enhanced meat loaf, and then provide recipes that bring consumers back to your produce department for essential ingredients like mushrooms.
***
Amy Myrdal Miller, MS, RDN, FAND, is a farmer's daughter from North Dakota, award-winning dietitian, culinary nutrition expert, and founder and president of Farmer's Daughter Consulting LLC. Suvir Saran is an award-winning chef and restaurateur. Born in Delhi, India, today Suvir lives on a farm in upstate New York.