NOTE TO READERS: The original version of this article originally appeared in the February 2016 issue of Produce Business magazine.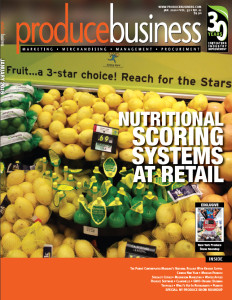 Suvir and I have been watching the slow cooking trend with great amusement. The goal seems to be preparing food faster…in a slower manner.
The social mindset driving this trend is very understandable. We're living in a very fast-paced world, and the foodies among us are striving to preserve some peace and sanity in the kitchen by using a seemingly old-fashioned technique and tool in new ways.
The concept of slow cooking or slow food certainly isn't new. In fact up until the 1950s, when TV dinners and other convenience foods were introduced, food preparation was a task that consumed much of a typical housewife's day. As innovation and technology offered increasing options for convenience and ease, and as more women joined the workforce, time spent on household "chores" like cooking and kitchen cleanup decreased.
While most 1950s housewives likely welcomed the arrival of products that provided greater convenience, not everyone applauded these societal changes, viewing them as detrimental to food culture.
Slow Food International was launched in 1989 as a global, grassroots organization designed to "prevent the disappearance of local food cultures and traditions, counteract the rise of fast life, and combat people's dwindling interest in the food they eat, where it comes from, and how our food choices affect the world around us." There are now millions of people in more than 160 countries participating in Slow Food efforts to enhance the mindful appreciation of food.
So how little time is now spent on cooking at home? A recent USDA ERS analysis shows Americans currently spend an estimated 33 minutes per day on food preparation and cleanup. And we spend less time on food preparation than residents of other Western countries. Women tend to spend more time on food preparation than men do, but data also show the amount of time men spend on food production is increasing. Food retailers shouldn't discount men when it comes to food selection and preparation, especially those Millennials who are eager to embrace the next food trend with deeper meaning—and slow cooking is one of these trends.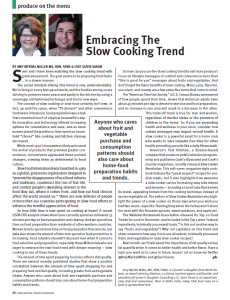 The amount of time spent preparing food also affects diet quality. There are several recently published studies that show a positive correlation between the amount of time spent shopping for and preparing food and diet quality, including greater fruit and vegetable intake. Anyone who cares about fruit and vegetable purchase and consumption patterns should also care about home food preparation habits and trends.
So how can you use the slow cooking trend to sell more produce? Focus on lifestyle messages of comfort and convenience more than "this is good for you" messages about fruits and vegetables. And don't forget the flavor benefits of slow cooking. Moist, juicy, flavorful, succulent, and creamy are a few seductive terms that come to mind.
The American Time Use Survey, a U.S. Census Bureau assessment of how people spend their time, shows that American adults have about 45 minutes per day to devote to exercise and food preparation, and that an increase in one area will result in a decrease in the other. This trade-off trend is true for men and women, regardless of marital status or the presence of children in the home. So if you are promoting health and wellness in your store, consider how certain messages may impact overall health. A slow cooker is a powerful asset for the home cook who wants to save valuable free time for other health-promoting pursuits like a daily fitness walk.
America's Test Kitchen, a Boston-based company that produces public television programming and publishes Cook's Illustrated and Cook's Country magazines, recently released Slow Cooker Revolution. This soft cover magazine-style cookbook features the "usual suspect" recipes for one-dish meals but also highlights how awesome a slow cooker can be for making easy side dishes and desserts, including a Carrot Cake that derives its moist, appealing texture from the cooking technique instead of excess vegetable oil. The editors of Slow Cooker Revolution also highlight the power of a slow cooker on those days when you wish you had two ovens, days like Thanksgiving when the turkey won't share the oven with the Brussels sprouts, sweet potatoes, and apple pie.
The National Restaurant Association released its Top 20 Food Trends for 2016 in December, and included in the top five is "natural ingredients/minimally processed foods." Is this not another way to say "fruits and vegetables"? Why not capitalize on this trend and show consumers how easy it is to use all natural, minimally processed fruits and vegetables in easy slow cooker recipes?
Next month we'll talk about the importance of fat quality versus fat quantity when it comes to better health and better flavor. Have a topic you want us to cover in future issues? Let us know via Twitter @AmyMyrdalMiller and @SuvirSaran.
***
Amy Myrdal Miller, MS, RDN, FAND, is a farmer's daughter from North Dakota, award-winning dietitian, culinary nutrition expert, and founder and president of Farmer's Daughter Consulting LLC. Suvir Saran is an award-winning chef and restaurateur. Born in Delhi, India, today Suvir lives on a farm in upstate New York.