By Amy Myrdal Miller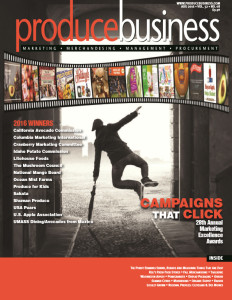 NOTE: This article originally appeared in the August 2016 issue of Produce Business magazine.
I worked for The Culinary Institute of America (CIA) for seven years planning and hosting conferences and leadership retreats for culinary and volume foodservice professionals. During that time (2007-2014) the only topic that seemed to get more attention than local sourcing was Millennials. And now the industry is forgetting Millennials and focusing on their younger siblings, Gen Y.
Putting a session on local sourcing on a program usually made guest chefs very happy but upset certain sponsors, typically produce companies or commodity boards with specific growing regions. "Local" seemed to be a threat to their business. It was a sentiment I could appreciate, but I could see how chefs and marketers were embracing "local" as a way to capture the attention of diners eager to support local economies and local growers.
One of the first challenges for "local" sourcing is defining what you mean by "local." I recall a representative from McDonald's stating at a CIA conference in 2008 "…for a global company like ours, local sourcing for our U.S. restaurants is domestic sourcing." Many in the audience smiled when they heard this, assured that a major customer like McDonald's was being realistic about defining local.
But not all chefs and foodservice operators are always in favor of local sourcing. Celebrity chef and restaurateur Michael Chiarello, who was born and raised in California's Central Valley, stated during a panel discussion about local sourcing at the CIA in 2010, "I don't care where a tomato comes from as long as it's flavorful. I'll use San Marzano tomatoes from Italy if that's the only tomato that gives me the flavor I want for a specific dish."
Each fall the National Restaurant Association surveys members of the American Culinary Federation to develop the next year's "What' Hot?" Culinary Forecast. In 2016 they asked respondents "Which current culinary trend has grown the most over the past 10 years?" Local sourcing was the top response (44%) followed by gluten-free cuisine (21%) and environmental sustainability (13%). They also asked respondents "Which current culinary trend will be the hottest menu trend 10 years from now?" and local sourcing ranked second (21%) to environmental sustainability (41%). Combining local sourcing and environmental sustainability seems to be the biggest trend to watch in our farming and food system.
I was invited to moderate a panel discussion at the 2016 Aspen Ideas Festival on "The Next Food Revolution." Panelists included David Rosenberg, CEO and Co-Founder of AeroFarms, Bryn Banuelos, Marketing Director at the Albertsons Companies, Inc. in Pleasanton, CA, and Mike Frank, Chief Commercial Officer for Monsanto Company. The focus of our discussion was on innovation and technology in the food system.
AeroFarms is an indoor farming operation growing organic leafy greens in a warehouse in New Jersey without any soil or sunlight…or disruptions in growing conditions due to climate change. UV lighting and nutrient-enhanced water provide everything the plants need to grow. Their mission is to build indoor farms in densely populated urban areas to provide access to nutrient-rich, local food.
The aeroponic vertical farming technology developed by AeroFarms is being watched closely by food system leaders as well as venture capitalists. AeroFarms accepted $20 million on venture capital funding in late 2015, funding for expansion in the U.S. and around the world. After moving into a new 70,000 square foot space in Newark, their next site will likely be Shanghai, the most populous city in the world with more than 24 million restaurants today.
From a flavor standpoint, one of the big upsides of indoor vertical farming is the ability to combine plant genetics with agriculture inputs to deliver a specific flavor profile. Rosenberg captured the attention of everyone in the audience during our panel discussion in Aspen when he talked about the flavor and texture of their baby kale. "This kale is so tender and sweet it will make everyone love kale." As a known kale hater, I'm a bit leery of this claim. But I'm planning on visiting Rosenberg and his Newark facility prior to the New York Produce Show in December. I'll let you know how that taste test goes.
So will technology be the solution moving forward to expand local sourcing and environmental sustainability? It's not the only solution, but it's one we should all pay attention to if we want to grow more food on less land with less environmental impact. And if we want to capture the attention of more chefs, we'll also focus on flavor!
Amy Myrdal Miller, MS, RDN, FAND is a farmer's daughter from North Dakota, award-winning dietitian, culinary nutrition expert, and founder and president of Farmer's Daughter Consulting, Inc.  Her clients include Monsanto Company. You can learn more about her business at www.farmersdaughterconsulting.com and you can follow her insights on food and flavor issues on Twitter @AmyMyrdalMiller.