By Amy Myrdal Miller, MS, RDN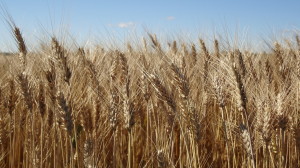 I grew up on a family farm in Northeast North Dakota that produced mostly wheat in the 1970s and 1980s. Today my brothers grow many more crops (including sunflowers, soy beans, pinto beans, navy beans, black beans, canola, and flax), but when I was a child, wheat was the primary crop.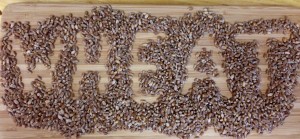 Homemade bread was always on the table at family meals. In the late 1970s my mom started grinding her own flour; in fact, she still does today with the same grinder (a Magic Mill®) she bought in 1979. (Talk about a powerful, long-lasting piece of equipment. Noisy, too! You have to wear ear plugs when grinding wheat with that machine. Today I grind my wheat in my Vitamix® blender.)
I started baking when I was seven years old. I remember the very first recipe I made, Raisin Soft Rock Cookies with Powdered Sugar Icing. The recipe was on a 3"x5" recipe card written in my mom's beautiful script hand writing. I quickly moved on to muffins (Jelly-Filled Muffins from The Better Crocker Kids Cookbook), quick breads (Banana Bread from The Book of Bread by Evan and Judith Jones that my Aunt Gail gave me for my ninth birthday), and when I was 10 I started making yeast breads.
The following recipe was created by me (with some help from my mom) when I was 12 years old. I wanted to enter the bread category at the Pembina County Fair; I ended up winning a Grand Champion ribbon.
This recipe is an example of "what grows together goes together", a phrase that speaks to how recipes develop over time in various parts of the world. North Dakota is largest U.S. producer of wheat (hard red spring wheat, the "hard" refers to high protein content, which is great for bread and pasta production, less desirable for pie crusts and pastries), honey, and canola.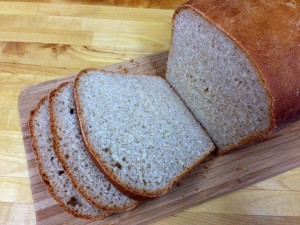 Amy's Honey Whole Wheat Bread
Yield: 2 loaves or 24 buns
2 ½ tsp. granulated yeast
1/2 cup warm water
2 cups low-fat milk
¼ cup canola oil
1/3 cup honey
2 teaspoons salt
3 cups whole wheat flour
2 ½ cups all-purpose flour
2 tablespoons canola oil
Combine the warm water and yeast in a small bowl; allow the yeast to bloom.
In a large mixing bowl combine the bloomed yeast, milk, canola oil, honey and salt. Whisk to combine well.
Whisk in 2 cups of the whole wheat flour. You should have a thick batter.
Stir in the remaining 1 cup of whole wheat flour and 1 cup of the all-purpose flour. You will now have a sticky, soft dough
Transfer the dough to a smooth surface and knead in the remaining 1 ½ cups of all-purpose flour. Knead the dough for at least 8-10 minutes to incorporate all of the flour. You should have a firm yet pliable ball of dough at this point.
Pour 1 tablespoon of canola oil into a large bowl, add the dough ball, and roll the dough ball around to cover in oil. Cover the bowl with plastic wrap and a clean dish towel. Place in a warm area and allow the dough to rise and double in size. (I often place a bowl inside another bowl filled with hot water. This ensures the rising process will proceed quickly. Using this method it will take about 1 to 1 ½ hours to double in size. If the dough is rising at room temperature, it will take 2-3 hours to double in size.)
Once the dough has doubled in size, preheat your oven to 350° F, use the remaining 1 tablespoon of canola oil to coat the loaf pans or baking sheets, and then form your loaves or buns.
Cover the loaves or buns with plastic wrap and clean dish towels, and allow to double in size.
Bake the loaves at 350° F for 35 minutes. Bake the buns at 350° F for 25 minutes.
Remove the loaves from the oven, turn the loaf pans on their sides on a cooling rack, and allow to cool for 30 minutes before removing from the pan. When making buns, remove the buns from the oven and immediately transfer to a cooling rack to cool for 30 minutes.